This is me: a patient's journey to a GBM diagnosis
By Randy Cordova
In late 2019, during a story arc on NBC's popular nighttime soap "This is Us," middle-aged matriarch Rebecca Pearson (played by Mandy Moore) starts battling the early signs of dementia.
I was compelled and terrified by her plight.
On TV, while Rebecca was getting lost, I was getting lost driving to familiar destinations.
She was misplacing her cell phone. I was forgetting how to do everyday tasks on the computer.
The "This is Us" connection seemingly was strengthened by my mom's Alzheimer's diagnosis a few years earlier. Could I be facing a premature case of dementia?
I scheduled an appointment with my longtime primary care doctor, who ordered an MRI. The test was scheduled for two weeks out, which felt like an eternity.
A few days later, on the day after Thanksgiving, I called my wife after a particularly frustrating workday. I am an editor and writer for a daily news publication. I walked away from my desk for privacy and took my cell phone outside. I could feel the warm sting of tears in my eyes as I told my wife, Maura, about my day. Simple tasks on the computer were baffling me.
She called St. Joseph's Hospital, which houses Barrow Neurological Institute, and soon we headed to the emergency room. They escorted me back quickly and within a couple of hours, we learned from the ER doctor that I had a large tumor in my brain. He was very blunt, but had a reassuring, gentle manner. "It's terrible news," he said. "It's the worst news in the world."
After that, my first response was actually a weird form of relief: I knew it was something!
However, reality sunk in and I realized the severity of the situation. I was on a far different path than Rebecca. I knew of no instances of brain tumors in my family. My exposure to them had been limited to Sen. John McCain's headline-making fight with one. And deep in my memory, there lies a 1975 TV movie called "Death Be Not Proud," with Robby Benson as a teenaged brain tumor patient.
I had been so enveloped in the "This is Us" storyline, I hadn't considered any other explanations for my erratic behavior and confusion. 
Your mind goes to a lot of weird places when you hear earth-shaking news. My wife and I held hands, we cried, we prayed, we said we'll beat it. And I thought about my mom.
I was trying to take it all in, but time is a luxury when a glioblastoma hijacks your brain. My wife was the one registering every bit of information. 
I was ushered to an Intensive Care Unit where we met a new doctor. He looked rattled. 
Nervously, he told us the MRI most certainly showed a malignancy. Surgery would occur soon. More doctors needed to review the scan before we knew more. We started to call our family and friends.
I checked in late on the Friday after Thanksgiving and on Saturday, we started to learn more. The tumor was close to the surface of my brain, which was good news because they would be able to access it during surgery. It was in an area that impacts vision, math skills and executive functions, something that didn't sink in until after the surgery.
Dr. Nader Sanai, a neurosurgical oncologist who is director of the Ivy Brain Tumor Center at the Barrow Neurological Institute, would perform the surgery. I was in good hands.
Dr. Sanai chose Sunday for the surgery. It would be the end of a four-day weekend, it was a quiet day for him and he wanted to take his time, we heard. 
There were informational videos we had to watch and health care directives to sign. We asked to see a priest. Our fear intensified.
I felt an urgency to have heart-to-heart conversations with my wife, mother, brother and friends. Years ago, an older brother died suddenly and many things were left unsaid. I didn't want a similar experience and have any regrets.
I wanted my mom with me in the hospital, but I struggled with sharing the news with her because I didn't want her to be overwhelmed. But once she found out, she wouldn't leave my side.
On the afternoon of the surgery, my hospital room began to fill with family and friends. We were anxious to get it started, and when I was finally wheeled into the surgery area, everyone quickly gave me kisses, hugs and blessings. The surgery was scheduled to take about six hours and my wife said our party took up most of the waiting area. The love and prayers almost felt tangible at that moment.
The surgery went well and Dr. Sanai removed more than 95% of the tumor. He told us that I was strong and young – which is great to hear when you're in your early 50s. He gave us hope.
But swelling in the brain can wreak havoc. During some cognitive tests in the hospital, I was instructed to draw a clock face and found myself unable to complete the task. Inside, I smiled to myself: I had just seen Rebecca fail the same test on "This is Us." (My clock-drawing skills now are back).
The mood wasn't always somber in the hospital. In full sun-downing mode, my mom forgot I was her son, but then offered to make health care decisions for me.
After five days in the hospital, I went home to await the pathology report that would instruct my medical team on the follow-up treatments.
Two days later, Jacki, our Nurse Navigator, called us to confirm the diagnosis of glioblastoma. She knew the news was scary, but she was reassuring. The plan included radiation, chemotherapy and the Optune, which attacks the cancer cells in your brain and stops them from dividing and growing. She recommended a couple of websites. She cautioned us against believing everything on the Internet.
A recurrence sent me back for a second surgery during the pandemic. This time, I would be in the hospital alone, which I dreaded. I missed the warmth of family and friends and I felt a bit lost without my wife present to be my advocate. But the doctors and nurses kept Maura looped in. They tried to keep me comfortable and I was sent home in two days.
The recurrence called for an additional chemotherapy treatment.
I've lived with this for seven months now and I'm still not used to it. I have faith but have leaned heavily on my wife's. I've always admired her open-hearted faith, which isn't clouded by cynicism.
I seem to respond well to radiation and chemotherapy with none of the dreaded nausea. However, the fatigue has hit me hard. Swelling in my brain made walking difficult and caused confusion. I felt like I had lost a good chunk of my IQ. But those side effects have lessened. On some days I even forget I'm sick. I also started wearing the Optune, and I got used to it within a few weeks. My neuro-oncologist, Dr. Ekokobe Fonkem, said he likes to be aggressive with his treatment plan, which pleased us.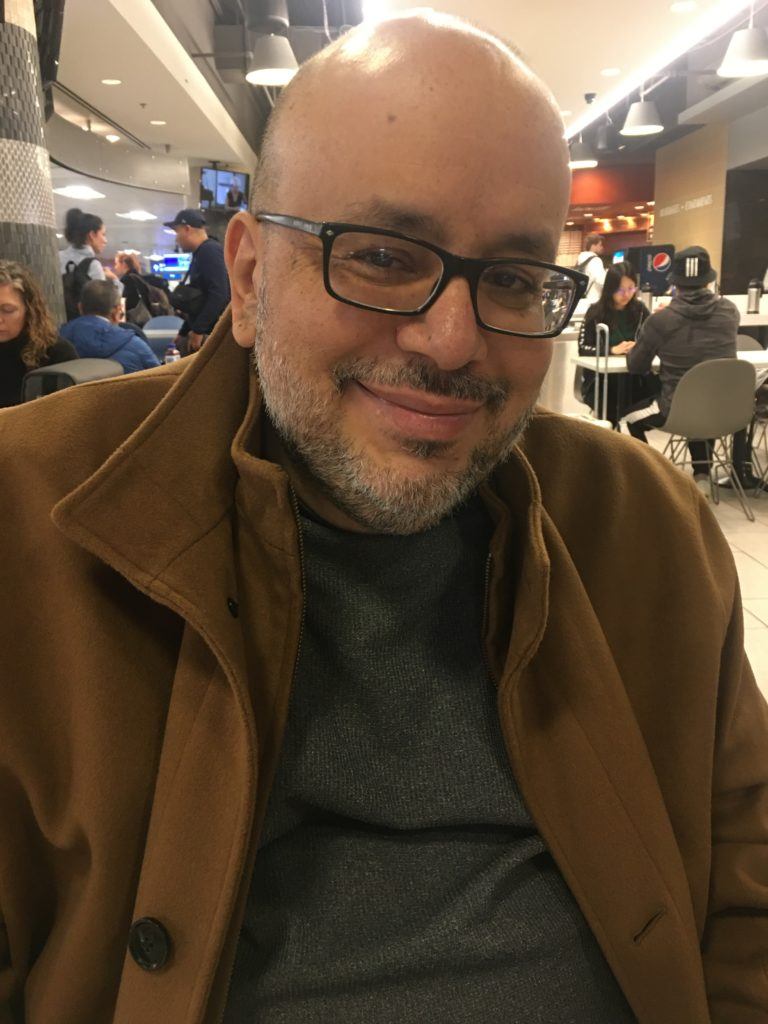 A month into my diagnosis, I celebrated my birthday with a quick jaunt to LA with the enthusiastic blessing of my radiation oncologist, Dr. Leland Rogers. A surprising discovery was how my brain quickly became overloaded when processing a lot of stimulation around me. Airport noises and crowds were jarring and difficult to filter. A visit to a favorite record store was now overwhelming with too much noise, information and people to adequately process.
I'm more homebound than I'd like – especially due to COVID-19. My pastimes normally involved shopping, movies and dining out. Because of my weakened immune system, I haven't stepped inside a store since March. The pandemic added a weird sense of isolation and loneliness. As someone who has always considered himself a bit of an introvert, I was surprised by how much I missed seeing people. More surprised was my wife when I told her that I felt very isolated. Ever proactive, she responded by organizing Zoom calls with loved ones and signing me up for support groups.
Some days are exhausting, filled with doctor's appointments, blood work, infusions, MRIs and other meetings.
I tend to be a positive person and I'm determined to stay in that mindset, though it is often hard. I feel fortunate that as a Phoenix native and lifelong Valley resident, I wound up living about 15 minutes from St. Joseph's Hospital and Barrow's world-renowned medical team. We've met patients who must travel from other states for their treatments. I also know the hospital well as my mom worked there for three decades in the emergency room before retiring.
Early on, I asked a doctor "When will I feel like myself again?" She said "You will have to find your new normal."
I'm not there yet, but I am closer. There are still things that frustrate me daily, but my wife reminds me not to be so hard on myself. And I'm grateful for what I've been able to regain.