Staff Spotlight: Jacki Garcia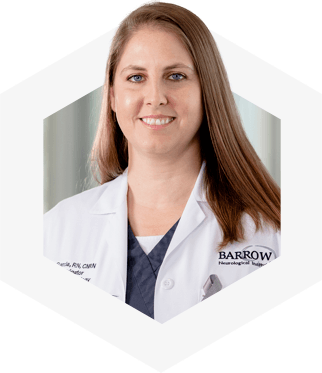 Job Title: Nurse Navigator
Hometown: Phoenix, AZ
What motivated you to get into the medical field?
As long as I can remember I wanted to be in the medical field. When I was 14, my niece passed away and I couldn't understand why doctors were unable to help her. If I had to pick a life event that may have pushed me in this direction that would have to be it. Oddly enough, she passed away at St. Joseph's Hospital in Phoenix where Barrow and the Ivy Center are located.
What makes working at the Ivy Brain Tumor Center different from other research centers?
The thing I love about working at the Ivy Center is that everyone here is passionate about what they are trying to accomplish. It's not just a job. The amount of personal time and involvement in extra activities with brain tumor patients and their families is moving. The brain tumor community is something we are a part of, not just working with.
What is your favorite part about your job?
My favorite part of the job is being able to comfort people in times of need. A brain tumor diagnosis is very scary. If I can give them information, reassurance or even just a hug to make things a little easier, then I feel good about my day.
How do you keep the spirit of your patients and their caregivers alive during such an emotional and life-threatening time?
I am not sure there is anything you can say to make this diagnosis easier, but I try to remind them that they are not alone, there is support all around them, and we have tools to treat the brain tumor. I also remind them that no one has an expiration date on the bottom of their foot and to focus on survivorship.
What keeps you motivated when dealing with such a complex disease?
The hope that one day we can make this a chronic disease, if not cure it. The connections I make with my patients and their families and knowing that I provide a level of comfort for them throughout this difficult journey.