INFIGRATINIB FOR RECURRENT HIGH-GRADE GLIOMA
About the Glioblastoma
clinical trial
The Ivy Brain Tumor Center at Barrow Neurological Institute, a nonprofit translational research program, is conducting a Phase 0 clinical trial to evaluate infigratinib in patients with recurrent high-grade glioma driven by FGFR (fibroblast growth factor receptor) genetic alterations.
The goal of this study is to confirm that infigratinib can cross the blood-brain barrier. Patients with positive results may receive continued treatment in an expansion arm of the trial. We will also confirm if the study drug is hitting the molecular targets.
FGFR (fibroblast growth factor receptor) genetic alterations have been shown to spur growth in malignant tumors.
Five to seven percent of glioblastoma patients' tumors are driven by FGFR signaling.
Tumors relying on the FGFR gene fusion may demonstrate an 'oncogene addiction' that causes them to rely on this genetic anomaly to survive.
Infigratinib is an orally administered, FGFR1-3 selective tyrosine kinase inhibitor from QED Therapeutics, a subsidiary of BridgeBio Pharma, Inc.
Glioblastoma Trial Details
Diseases
Glioma,
Glioblastoma,
Astrocytoma
ClinicalTrials.Gov Identifier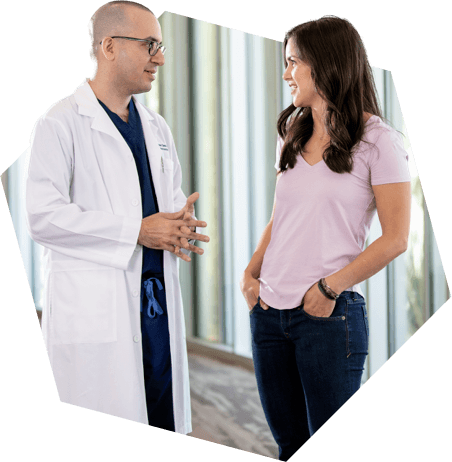 You may be eligible if:
You are 18 years or older
You have had prior resection (surgical removal) of a histologically diagnosed high-grade glioma (III and IV)
You have been treated with radiation and a chemotherapy drug called temozolomide
Your doctor has told you that your tumor has recurred (come back) or has progressed (grown or changed)
You have enough archival tumor tissue available from previous surgery to conduct genetic testing for the presence of FGFR3-TACC3 fusion gene or mutations in the FGFR1 and 3 genes.
How it works
Once enrolled, a patient receives a very small exposure to the experimental therapy days before a planned operation to remove their tumor.
---
This exposure is enough that when we remove the tumor, our team of experts can ask an important question: Did the treatment penetrate the tumor?
---
If the answer is yes, the patient may move forward with receiving a full dose of the treatment in an expansion arm of the trial.
---
Alternatively, if the treatment has no effect on the tumor, the patient can enroll in another clinical trial without losing time or receiving ineffective treatment.
---
Am I eligible?
Submit a free trial screening request today to learn if you may qualify for any of our studies.